Achilles Heel Running Store - Glasgow
At Achilles Heel, we're all about the run. If your aim is 5K or 26.2 miles, on road or on trail, we're here to prepare, empower and equip you from your first training run through to race-day. Our curated and tested range of running kit covering road, trail, track & field, clothing and accessories will get you set, with zero compromise on performance or style.
Store Opening Hours: Mon - Sat, 9.30am - 5.30pm / Sun, 12.00pm - 5pm
Running Shoe Fitting & Gait Analysis
With 20 years experience in footwear fitting you can rely on us and our knowledge base on finding the right pair of runners for you. For a full run down and the process of gait analysis check out our article covering this.
Our in-store team are here to provide a tailored and personalised experience, equipped with a large knowledge base across all product categories.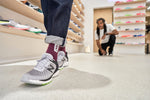 Frequently Asked Questions
I'm new to running, am I welcome?

Of course, our motto is 'Sub whatever, all abilities welcome'. Running is for all, no matter your times, age or fitness levels. Our store is fully inclusive, just like our Run Club.

Which footwear brands do you stock?

We stock a wide collection of brands including Adidas, Asics, Brooks, Hoka, New Balance, Nike, On, La Sportiva, Salomon and Saucony.

How long does gait analysis take?

Normally the shoe fitting / gait analysis process takes between 30-40 minutes.